I'm linking up with
Katie
this Saturday morning to share my Saturday Morning Scene. Head over and check out what everyone else is up to and share yours!!!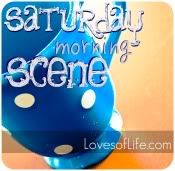 I'm spending this morning with my little drumming pirate while Daddy is off studying. He got this
B. Parum Pum Pum Drum
for his birthday and is obsessed with it. Well most of it, I think he's scared of the "A" that came with it!
Of course we had to get some story time in. Someone *ahem* is VERY demanding when it comes to books these days. Check out that face.

We both slept in a little late this morning (9am for Mama and 9:30 for T-bug!) because we stayed out late last night. We went to an outdoor showing of Willy Wonka and the Chocolate Factory (the original) and had a blast!
Trey is definitely too little to "watch" the movie but we had such a blast enjoying a picnic dinner, playing, rolling around and just being a family. Plus the wagon was involved and that is always a win for this kid!
He wasn't so sure of the
Oompa
Loompa's
singing. And I mean, really, who can blame him?
I hope everyone is having a wonderful Saturday! We are off to a friend's house so Trey can play with their two little girls and get in some fresh air and fun!